What is Light Guide Plate and Light Guide Rod?
LED light source has extensively been used since the turn of the century to 21st, and Light Guide Plate and Light Guide Rod are used to convert the point light souce of LED to area and line lights respectively. These are collectoively called as Light Guide.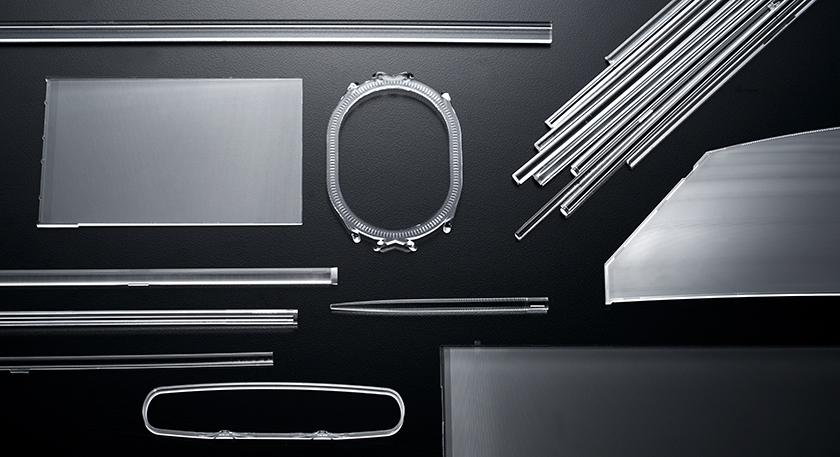 Features of Light Guide
Incident light from side of light guide is totally reflected and travels inside light guide but micro prism on the surface due to groove or dots will generate reflection and/or scattering of the light to guide the light to outside of the light guide (emit radiation). Emission area and intensity can be controlled by density of micro prism (optical pettern) and light flux density of the traveling light inside the light guide.
Optronics Div. of previous Colcoat has conquered optical pattern design and processing issues to mass-produce and supply light guide made by injection molding technology from early days. Nalux has inherited that business and technology to integrated with Nalux technology.
Applications of Light Guides which we have designed and produced are really broad range, such as Automotive Interior Lighting, Clock Luminous Pointer, Scanner Reading Light Source, Printer Drum Eraser, Household Security Light, Lighted Indicators, etc. We have continuously been pursuing possibilities of light guide to develop optimum solutions needed by various field and industries, though our experiences.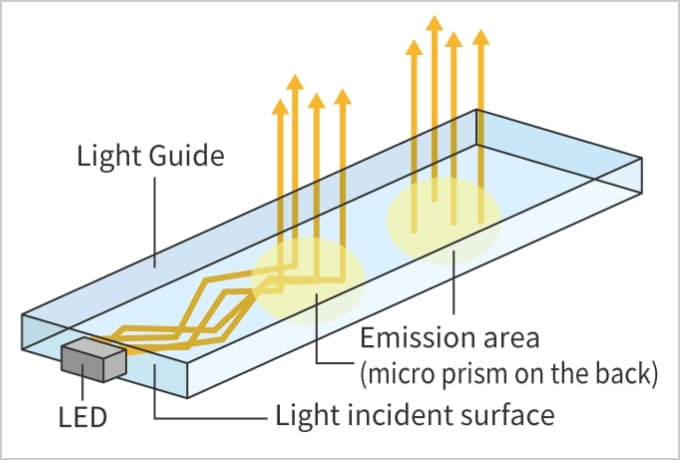 Light Guide Plate for LCD back light:
There are two ways for LCD back light, edge light type using light guide plat and direct placement of LEDs at the backside of LCD. As LCD display unit can be made thin with light guide, edge light type is normally adopted to the screen size of less than 20 inches diagonal.
Strength of Nalux Light Guide Plate for LCD back light:
Our Light Guide Plate for LCD back light is produced by injection molding by precisely transferring the fine prism pattern (micro prism) which are made on the tooling by machining.
Alternative way to generate optical pattern on tooling is stamper method.
Micro prism approach can utilize the light effectively by reflecting light to desired direction and by placing such micro prism on both sides of the plate, brightness uniformity can be improved further by optimised desigs of ridge lines and cross section of micro prisms. Thanks to the excellent properties and stabilized quality of our light guide, our light fuide is adopted for digital meters of premium cars which requires the most severe specifications. Also, recent automotive digital meters tend to use non rectangular shape LCD and/or curved LCD. We have successfully developed and mass-produced suitable lgiht guide for such special shape LCDs ahead of other companies.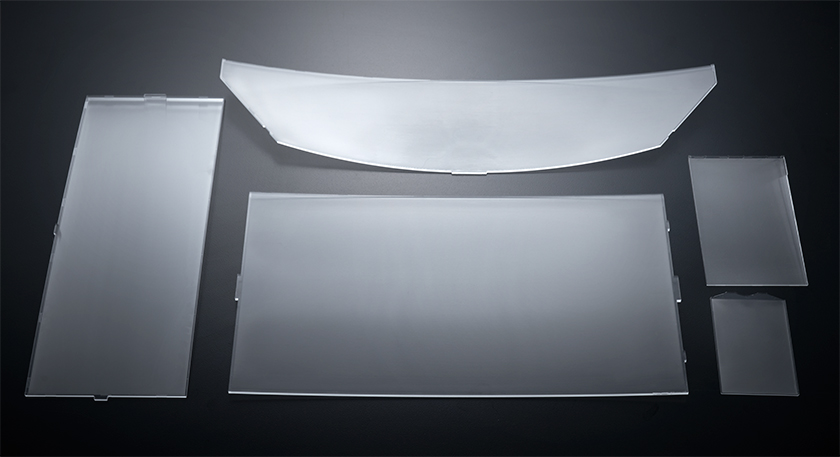 Ideal Light Angle Distribution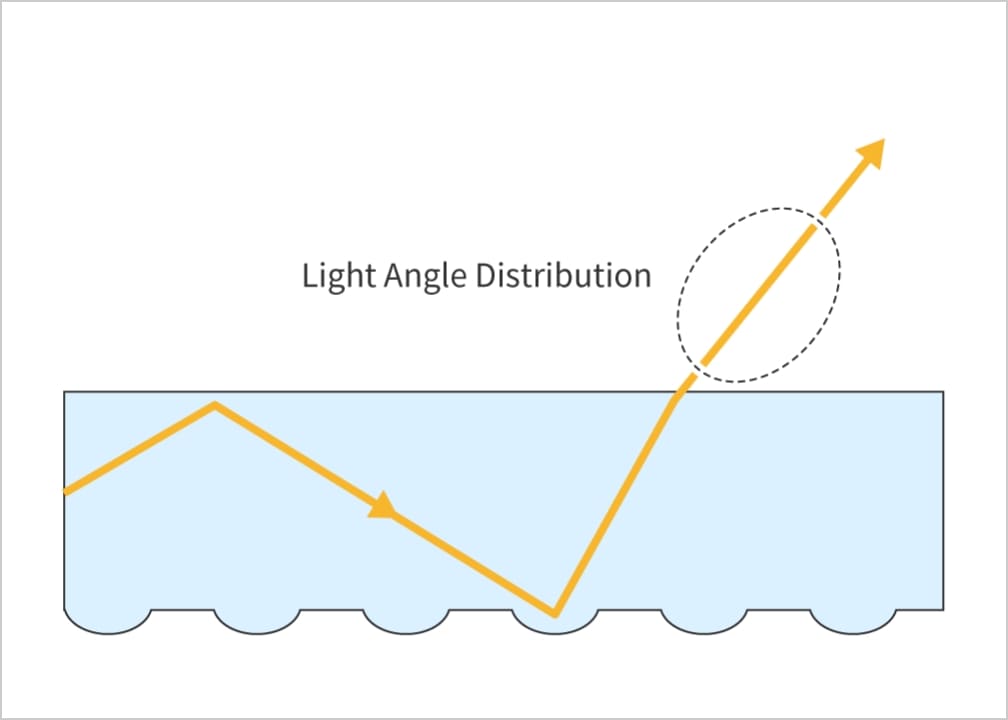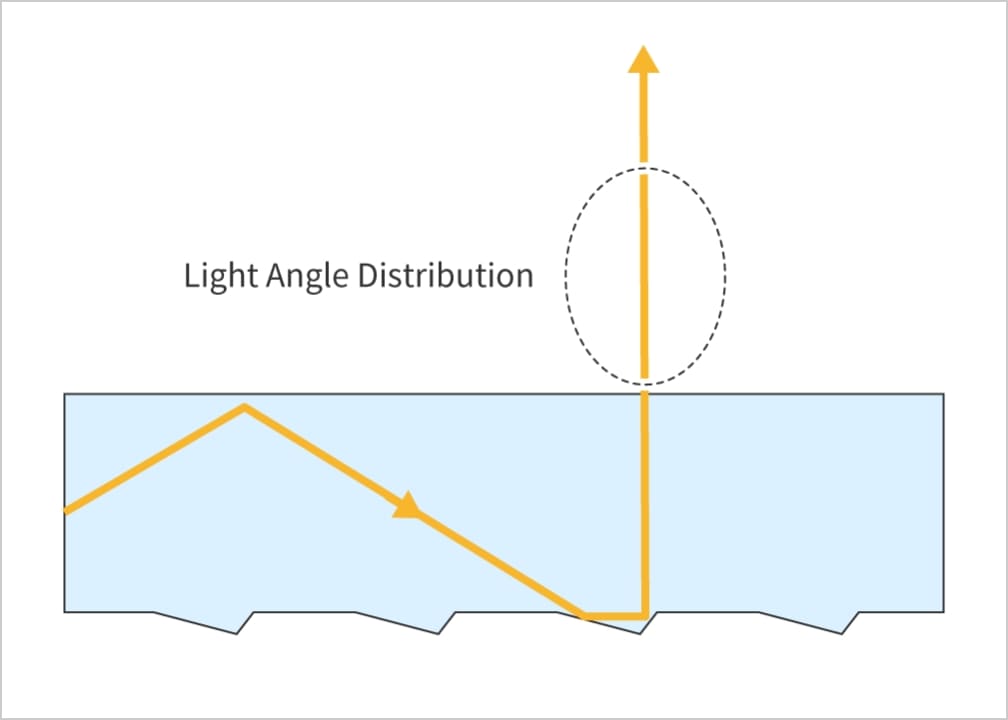 Highly efficient light usage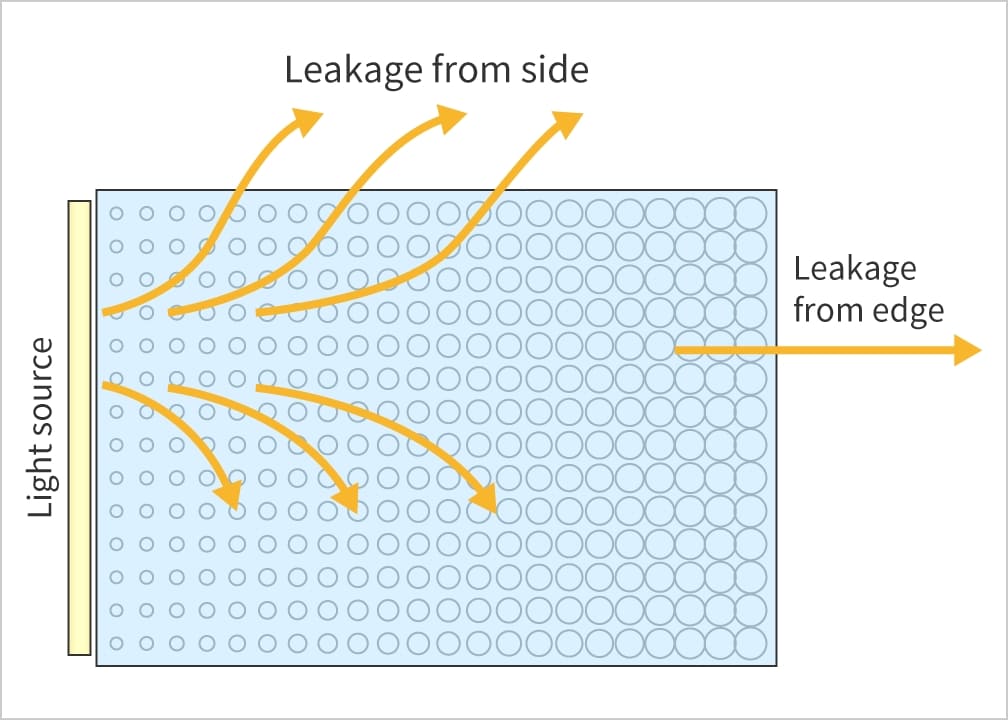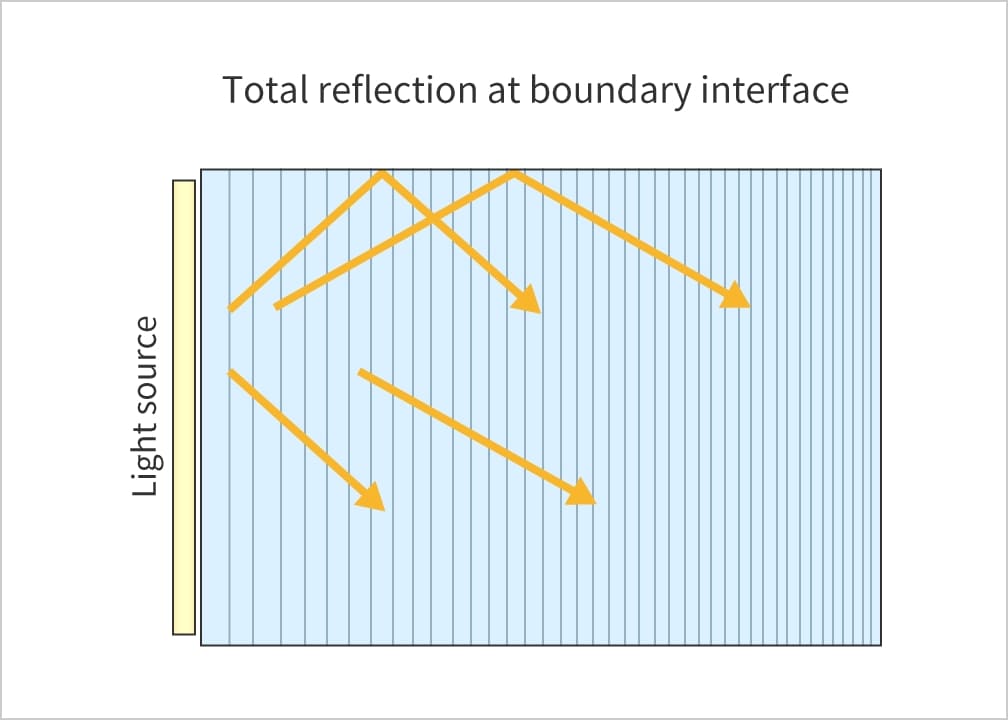 What is Light Guide Rod for Image Scanner Illumination?
Line illumination light source is used for illuminating the reading area in the application of scanner which uses a linear image sensor. Light Guide Rod serve for illuminating a long and thin line area uniformly guiding emitted light of LED light source located at the end face.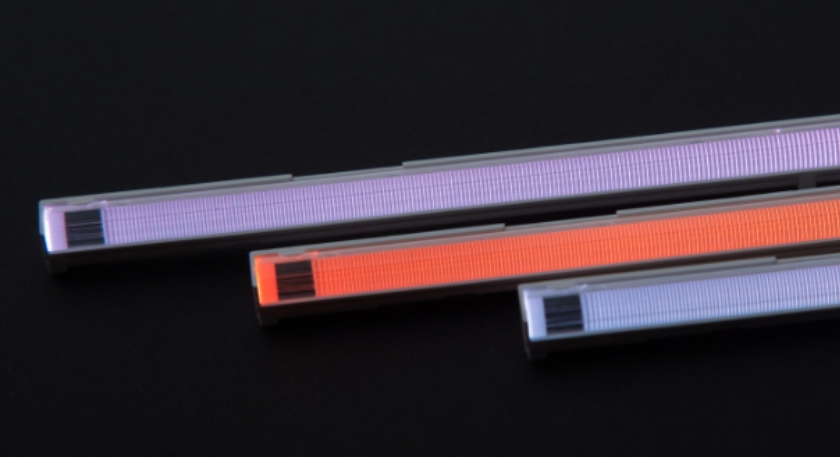 Features of Nalux Light Guid Rod:
In order to achieve uniform illumination, micro prism is formed at one direction of light guide rod. This technology is an extention of our development of light guide plate for LCD back light, i.e., design and processing technology for optimization of cross sectional shape and pitch of the micro prism have been developed and accumulated for the light guide plate.
Light reflected at micro prism is condensed by lens fuction at light exit surface. Light Guide Rod type was fisrt adopted for CIS (Contact Image Sensor) type. We have expanded the application to the more severe CCD (Charge Coupled Device) type as well by our patented technology of unique light control technology and by establishing precision processing technology.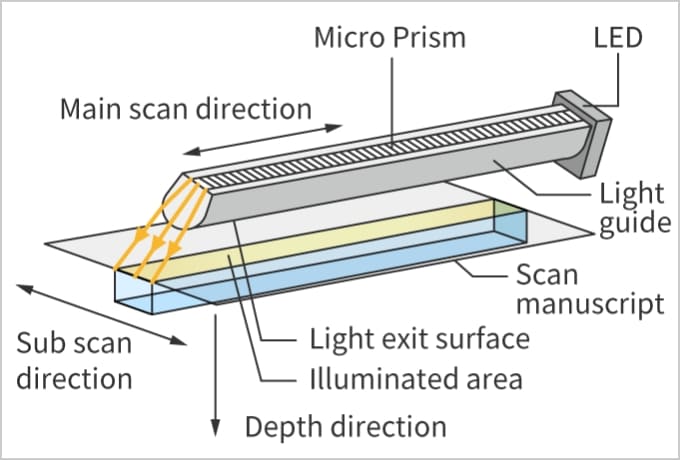 Patented technology:
Lenticular type lenses at the light exit surface is made for diffusion purpose and hight, diameter and number of such lenses are designed to achieve stabilized illumination.
Afluent developments and mass production experiences:
Light guide rod length is from 120mm to 460mm. Light source is white LED and 3in1 type LED. Applications have been multi function printers, banknote recognition machine, marksheet reader, white board, high speeed document scanner. Reading method: Both CIS and CCD types. We have quite a wide variety of experiences of design/development of various users individual requirements. It normally requires very tight space fitting and is challenging for achieving requirements but we are prepared to build customised product meeting the appliocations at the most appropriate QCD balance best utilizing optical simulations.
Also, we can design and supply light guide rod used as charge erasers for printers.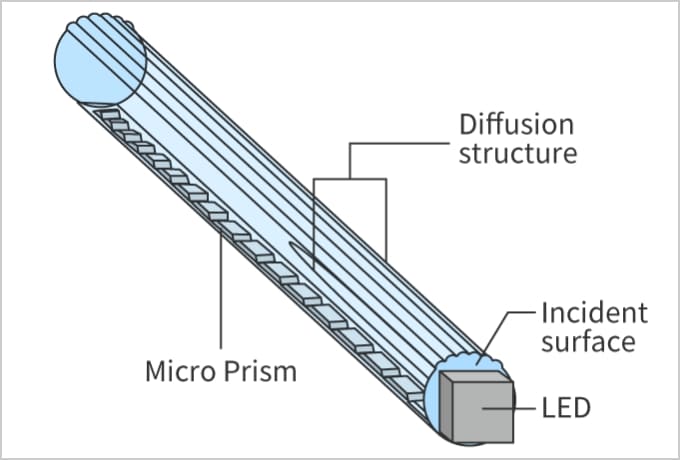 What is light guide for illuminated indicators?
Light guide made by injection molding broadens design flexibility of illuminated indicators and serves for intuitive instructions and contributes for adding values of the design and the product. Also, it can be installed at the area where electronic PCB cannot be used.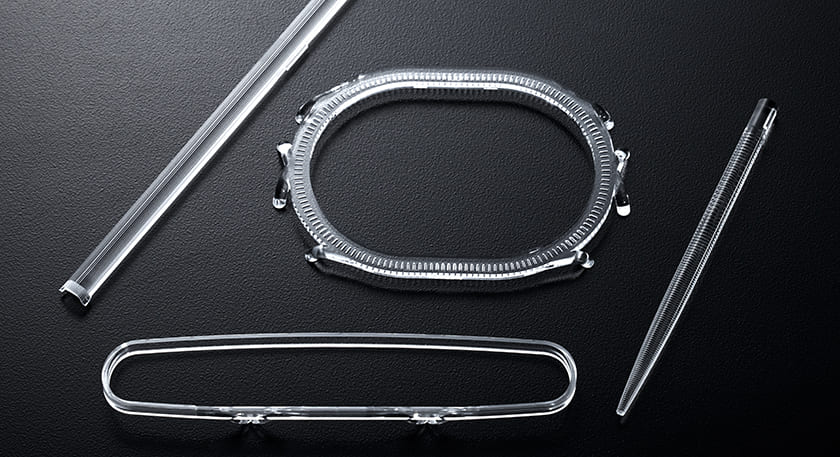 Strength of Nalux Light Guide
Broad expertise and experiences are needed to effectively illuminate light guide in equipment. Atructures for fixing, remaining gate, ejector pin marks, weldline, all of thise will affect the appearance of the equipment.
We have developed quite a number of light guides with many customers in various industrial fields joining from the planning stage. Thus, thanks to such activities, we have been able to accumulate design know hows to control light by reflection/refraction. All of these make us to propose and support rational plan meeting individual requirements of different shapes and lighting schemes leading the customer to the success.
Illuminated Indicators as Interface with Robot (HMI)
You can now see various autonomous robots working in the same space where we live, such as Serving Robot, Cleaning Robot, Logistics Robot, etc. So, people and robots will now enter an era to collaborate together closely communicating each other to establish life and society from now on.
In collaborating robots (COBOTS), illuminated display which facilitates communictions will contribute for efficient operations and mutual trust.
It is important to quickly and clearly communicate Robot's actions or thinking, e.g., "What is Robot trying to do?", "What kind of task is Robot trying to do?", "What does Robot want us to do?" Without this, we cannot take appropriate actions quickly. Aolthough standardized display such as LCD is superior in terms of volume of informaiton but it is not sufficient to intuitively convey the information. This will be improved by placing illuminated display at appopriate locations of the Robot's body.
Looking to the future of co-existing of human and robot, Nalux is to evolve the light guide technology to further maturity.
What is "Ligth Flow Guide"?
It is a revolutional light guide enabling various performance expressions on a long belt area only with a small number of LED device(s) at one end or both ends.
All the surface area can be lighted uniformly or even it may show smooth flowing or streaming light (animation).
With a RGB 3 in 1 type LED light source, you can really achieve attractive color performance.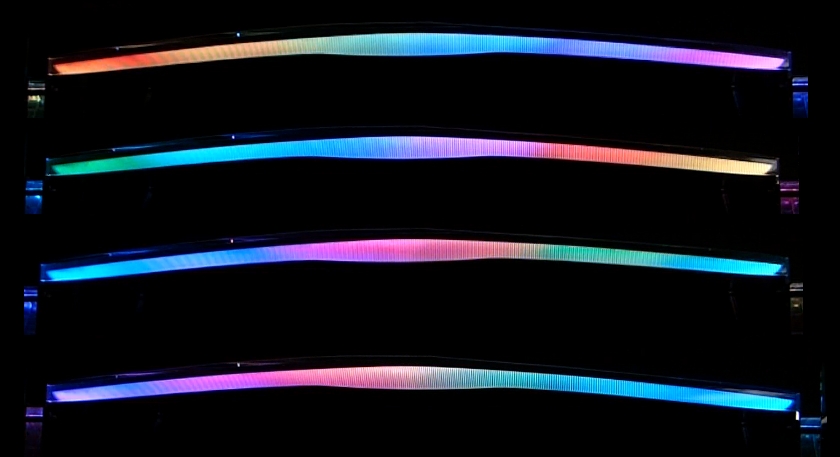 Features and conceivable applications of Light Flow Guide:
You can achieve uniform line light without typical LED granular appearance. As granular appearance damages calm dignity of the space, light guide has been adopted in automotive interior lighting (ambient lighting). If and when Light Flow Guide is adopted instead of conventional light guide, you can add various performance expressions, which would provide a suitable display in addition to illumination where diversified informaiton is needed to be conveyed in advanced AD and ADAS environment.
As you can expand installation freedom, it will be suitable as HMI (Human Machine Interface) for autonomous robots and collabolative robots or cobots.
As it will make displays rich in design and peace of mind, it will enhance emotional and experimental values by visualization of operational status on air purifier and water purifiers.
As intuitive and easy to understand by color and move of the light, it is suitable for navigating operation and movement.
Combining with capacitive touch sensor, you can materialize touch input device.