Nalux Business Fields
Light has full of infinite possibilities. Optical technology utilizing light features and properties is an essential part of our daily life at the present day.
Nalux entered the optical industry in the 1960s and we have been accumulating relevant technologies for many years. We have positioned four core technologies as growth engines, running five business operations: Plastic Business, Glass Business, Module Business, Fabrication Business, and New Product and Technology Development Business.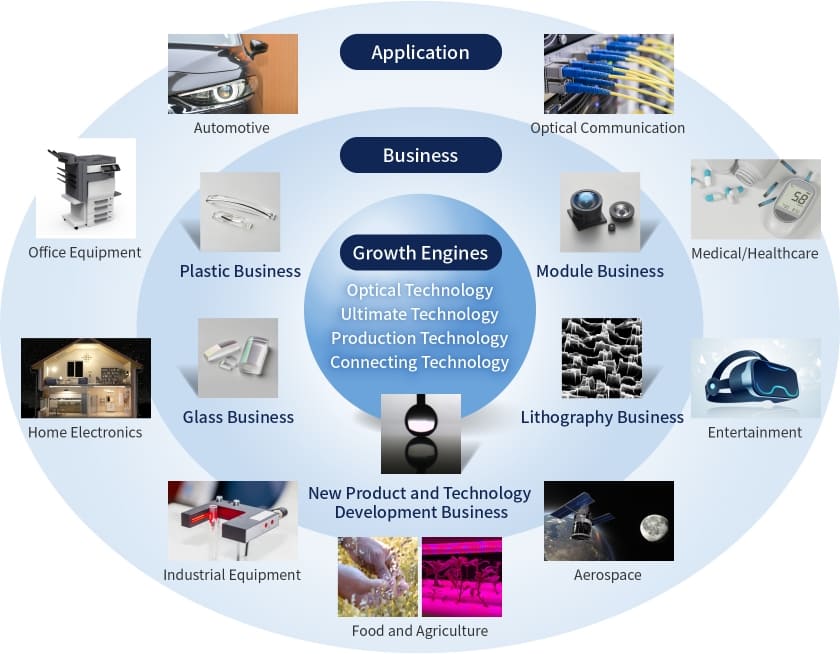 Plastic Business
We produce optical components in plastic, which allow high productivity.
Module Business
We produce optical modules consisiting of components including light source and light receiving elements as well as optical elements.
Glass Business
We produce glass optical components, which ensure superior stability and resistance to weather, cold and heat.
Fabrication Business
We conduct ultraprecision processing using lithography. We also offer contract processing service.
New Product and Technology Development Business
We are developing new products making best use of the existing Nalux technologies, and new technologies required to fulfill future needs.
Industries Using Nalux Products
Nalux products are playing active roles in a wide range of industries from illumination and office equipment, which are familiar to our daily lives, to optical communication, industrial and medical equipment.
Automotive
Automotive lighting, Autonomous driving system, Far infrared camera, Communication system, CD/DVD optical pick-up
Optical Communication
Optical communication, Wearable device, Mobile phone camera/camera flash light, Game/ Entertainment
Office Equipment
Laser beam printer, Projector
Medical/Healthcare
Endoscope, Spectrometer, Wellarray, Nursing-care robot
Industrial Equipment
FA sensor, Far-infrared camera, TOF camera, LED backlight, Laser-beam printer, barcode reader