We deliver high quality, high precision, cutting edge manufacturing with our "Turn Key" solution.
Nalux creates future of optics together with our customers.
We can provide "Turn Key" solution from optical design to final products depending on our customer's requirements. We have supplied various optical products such as lens, mirrors, DOE(Diffractive Optical Element), Optical Modules to various market from enterprise products to consumer products.
Why NALUX?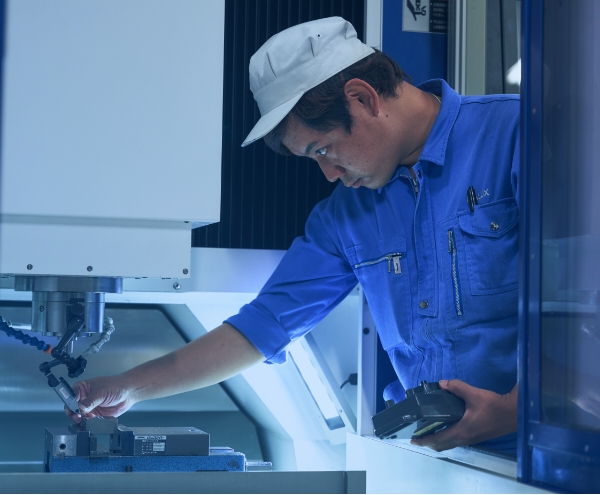 01
Cutting edge lens development
Our vision "Lighting a path to the future with nano-optics".
We pursue advanced light and process technologies in relentless manner.
We pursue trail blazing optical and processing technologies in reletless manner by engaging joint research with highly accredited academic institutes in Japan and overseas and between industry and academia.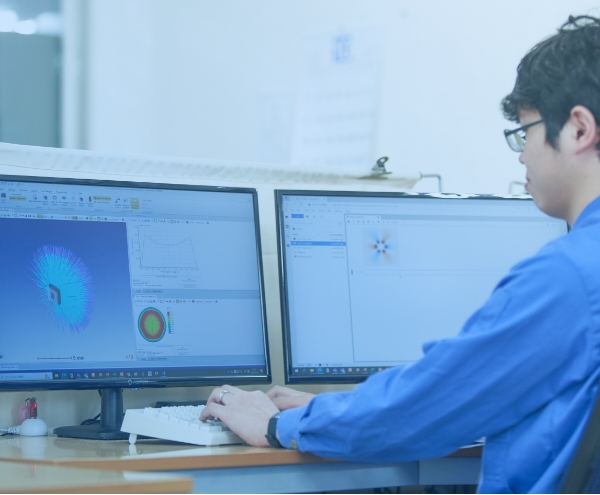 02
Outstanding Optical Design Capability
We provide our supports to our customers realizing "product" from optical design.
We, Nalux are able to support our customers from optical design phase in addiiton to volume production of optics. We have extensive number of experienced optical engineers in our team, who have made various kinds of optical designs and proposals to our customers for a long period of time such as imaging, illumination and scan optics. We provide thorough supports to our customers in order to help them realizing customers' products. We also are able to provide optical design supports for DOE (Diffractive Optical Elements), CGH (Computer Generated Hologram) based on wave optics with Nalux's self developed optical design tool.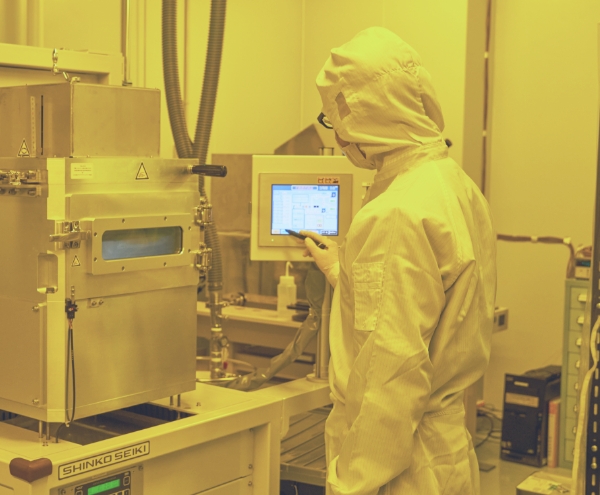 03
Tool processing in pursuit of ultimate accuracy
Ultra precision, high quality and high reliability as a world leader
In addition to state of the art ultra precision process machines, we make tireless efforts to advance tool processing technologies including joint-development of technologies with processing machine manufacturers. We are also able to handle processing very fine structures, smaller than light wave-length by electron beam lithography technologies. Our simulation capabilities such as mold flow, temperature and structure analysis enable us to predict potential defects in production. As the result of those, our team can work out optimum designs by front loading at early phase of the project.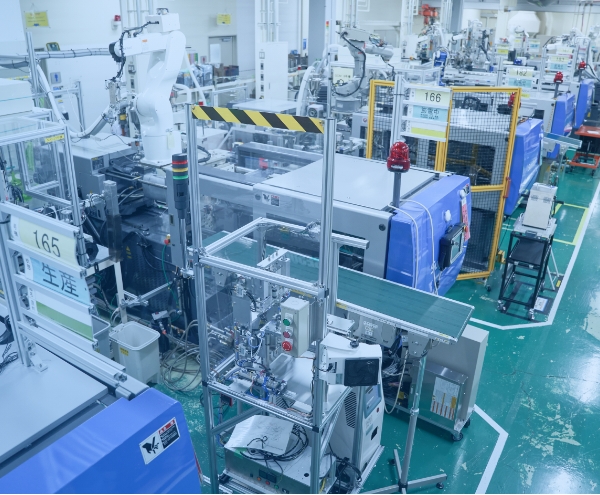 04
Production technology to enable consistent quality.
24/7 stable mass production by automated production line and real time monitoring.
24/7 complete automated production from molding to packaging. We manage our production line with data collected from tools, molding machines, peripheral apparatus, in-line inspection and metrology equipment. We have established stable production system and let them keep functioning appropriately by capturing the signs of changes from data collected, to minimize defects.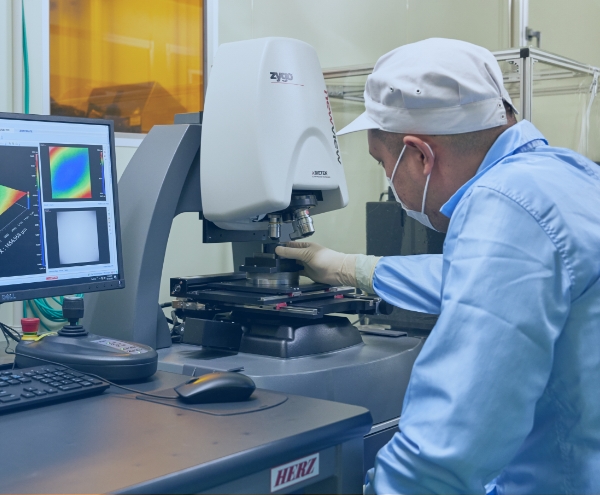 05
Reliable quality assurance system
Stringent quality assurance system to backup high precison manufacturing.
State of the art metrology system is indispensablein order to ensure high precision product quality in addition to advanced tool processing and production technology.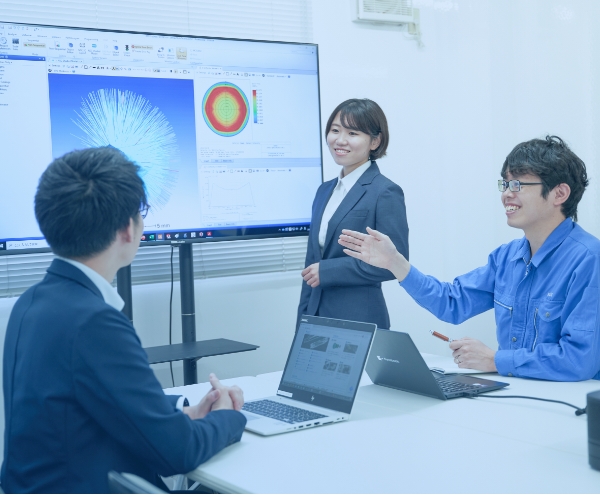 06
One stop shop for optics
Nalux's "One team" spirit and system enables to establish trustworthy partnerships with our customers.
We're "One stop shop" for optics from R&D, design, manufacturing and quality assurance taking care of all processes in-house. We're builiding our self-made system called "NALBRAIN" which manages real time production data and collecting and sharing technical know-how and technologies as our cross functional team.
4

core technologies supporting Nalux
Inquiry Flow
1. Contact us
Please feel free to contact us via inquiry forms or calls. We welcome to hear "What you want to achieve" even without any drawing or specifications.
2. Our reply
Our sales representatives will get in touch with you. They'll be eager to listen to your needs and/or requests in order to perform initial feasibility study.
3. Preliminary feasibility study
Our "Team Nalux" experts in various fields work together for the feasibility study based on information shared by you.
4. Meetings
We'll propose a meeting with you based upon our internal study. Our team will try to truly understand your requirement and make the most optimised proposal in meeting as needed.
5. Specification alignment & Quote submission
Our team puts together our drawing, specification and quotation based on agreed to contents.
6. Order placement
We expect our customers to release PO once they consent on our specification and quote.
How to make lens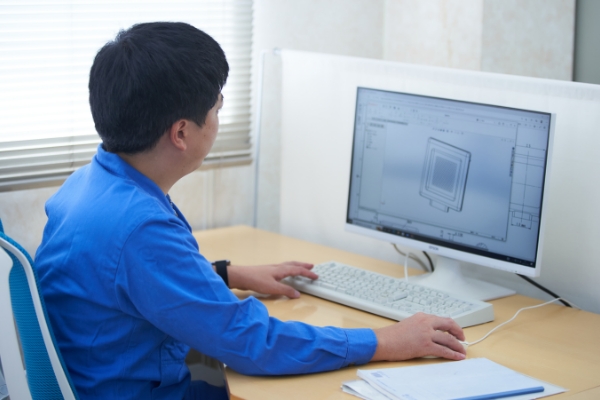 STEP 1Design works
Our well experienced engineering team (optical, mechanical, tooling, etc.) performs product design. They conduct DFM(Design for Manufacturing) after front loading utilizing CAE (Computer Aided Engineering) such as simulation of mold flow analysis of resin and structual analysis.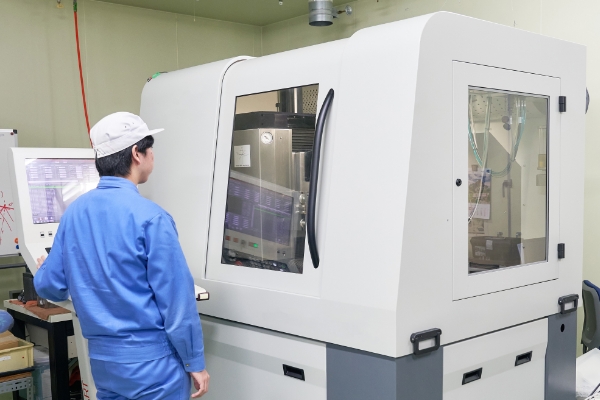 STEP 2Mold processing
We process mold by ultra precision processing machine with nano meter level precision. Mold consists of a lot of different kinds of parts such as so called "core" which forms profile of injection molded parts, as well as resin flow path (runner) and heating and cooling mechanisms. Our long accumulated technologies and know-how are reflected on each part of the mold, differentiating ours from others.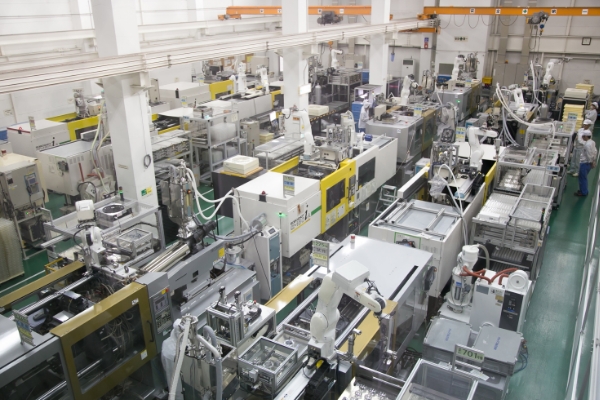 STEP 3Molding
We execute molding of optics by transferring mold profile and features onto resin/ glass materials softened by heating.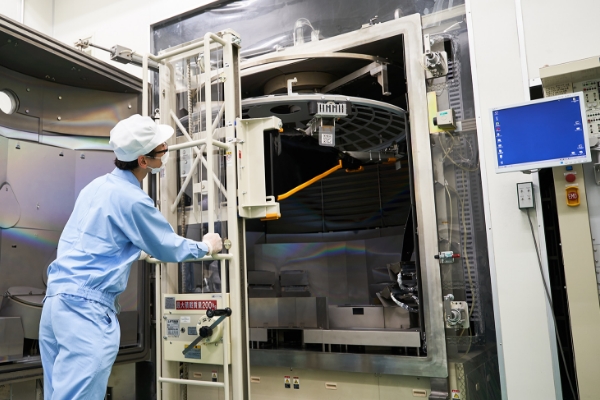 STEP 4Coating
By forming a thin film layer on molded optical element, additional optical functions, such as anti-reflection characteristics. In addition to such an optical function, we can accomodate with other kinds of functional coatings such as hard coating to protect optical element and other functional film of anti-fog coating.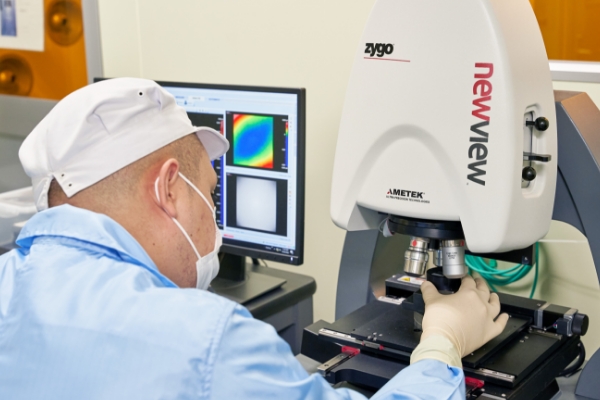 STEP 5Quality assurance
We only deliver quality parts to our customers via our quality assurance system supported with various advanced measurement and evalation equipments as well as statistical measures. We also conduct quality assurance by using our self-made functional test equipment, in addition to testing with metrology equipment available in the market.